image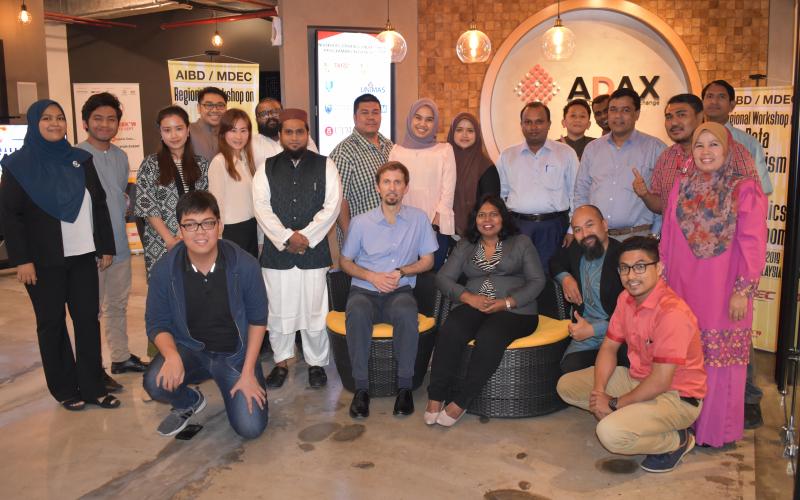 AIBD / MDEC Regional Workshop on Data Journalism and Infographics for Newsroom, in Conjunction with AI & Data Week 2019, 18 – 20 September, 2019, had 22 participants from, Bangladesh, Malaysia, Maldives and Thailand came to ASEAN Data Analytics eXchange (ADAX), Kuala Lumpur, Malaysia to learn about cutting edge tools to analyse data and also how to unleash their creativity in using numbers to tell stories.
In television, numbers and engaging graphics play a central role in news, financial reporting and live sports, but modern data journalism is opening up new areas of creativity that push the boundaries of storytelling.
The participants learned that the first step is understanding the kind of story that they wanted to tell and that the data is telling.
We looked at stories where the key data element is time, others that focused on place and still others that used advanced visualisation techniques to help audiences make sense of complex information.
In three days, participants learned spreadsheet skills including how to perform basic calculations and how to summarise thousands of records of data. This analysis helped them understand the story they were telling.
In addition to learning about data journalism techniques, the participants also learned about how to build data journalism teams using examples from publishers including The Guardian and The Financial Times and public service broadcasters like Australia's ABC. The key takeaway from these examples is that data journalism projects require a range of skills and skilled staff. They take data collection and analysis skills as well as visual storytelling skills.
The participants left the workshop with the skills to tell data stories and the enthusiasm to use these skills.