Journalists are invited to apply to participate in an exciting five-day programme to explore the latest in climate innovation at a World Bank Group hosted event held from 3-7 June 2019 in Singapore at Sands Expo Convention Centre 
Deadline: 13 May 2019
EB Impact, the non-profit arm of Eco-Business, in partnership with the World Bank Group invites working journalists, in particular from developing countries in Asia, to apply for this media programme.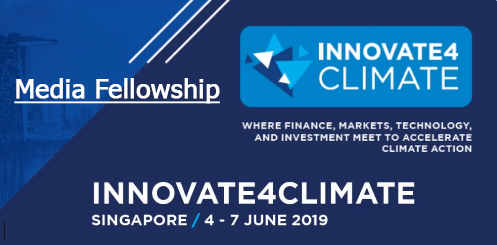 Selected participants will spend 3-7 June at the Innovate4Climate event in Singapore, which is the pre-eminent global event on climate finance, climate investment and climate markets. It is a platform that brings together business, finance, policy and technology leaders to accelerate action on financing climate-smart development. In 2019, I4C will focus on green finance, sustainable cooling, battery storage, climate-smart urban design, and Asian climate markets, among other
relevant topics to the region. 

At least 10 participants will be selected to attend a programme comprising a 1.5 day media workshop and to cover Innovate4Climate and related events with the aim of developing story ideas, contacts and network with other journalists from the region. 
Innovate4Climate is part of Singapore's Ecosperity week, an annual event hosted by Temasek which convenes corporate leaders, innovators, policymakers and experts from around the world to discuss sustainability topics with a business focus.

The media workshop will provide participants with an overview of climate and sustainable development in Asia, and uncover new ways of reporting on these issues for their countries. They will explore ways to produce high quality journalism in a wide variety of mediums, from the written word to photography, and producing videos and podcasts.
 
For more details: http://bit.ly/2H6g5j4
Image