image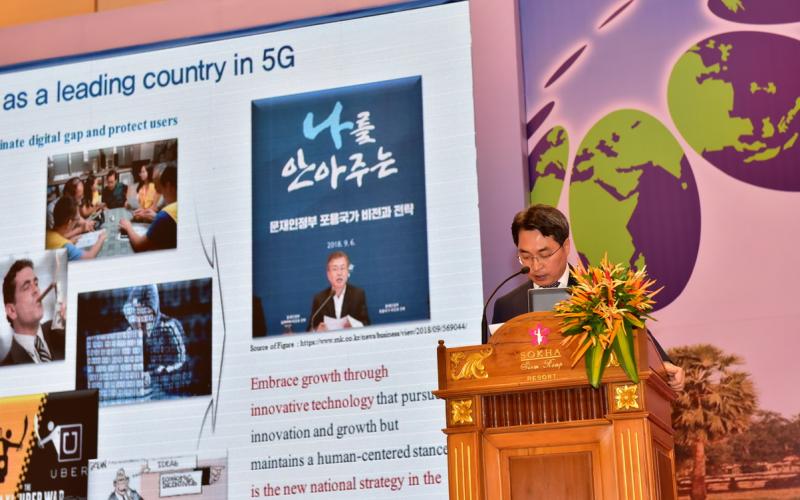 To meet changes in the global media environment and respond to the digital revolution age, Korea will spread 'Hallyu' or the Korean wave to include k-pop, drama and games, establish a Korean content distribution platform and strengthen its status as a leading country in 5G technology, according to Dr Sam Seog Ko, Standing Commissioner of the Korean Communications Commission (KCC), Korea.
"We will expand our global market centred on Korean wave content through media-commerce convergence. This means expanding the source with our own IP to connect with a wide variety of markets and spread commercial videos that are fun and have stories through social media and YouTube", Dr Ko told participants of the 16th Asia Media Summit in Cambodia.
Speaking at the summit's plenary session 1 on 'How We can Adapt to Digital Revolution', he said Korea will also utilise capital from global companies such as Netflix if necessary to promote 'Hallyu' content.
To support efforts in establishing Korean content distribution platform, he said that the largest K-Culture Festival in the world held by CJ Group will continue every year.
"We will also combine conventions and concerts with cultural content such a
s K-pop, K-drama, and K-Movie, as well as all 'Hallyu' themes including IT, fashion, and beauty," he said.
He added that they will pursue OTT services in  combination with terrestrial (KBS, MBC, SBS) and mobile carrier (SKT) to advance into its global market, as well as mutual investment plan for OTT content production with SKT and Singtel.
Korea will also promote national strategy to become 'world's best, beyond world's first' in 5G while actively supporting in fostering new 5G-based industries and revitalising the private-led market.
It will also support the promotion of 5G content market-support leading projects in 5G killer content like hologram, and VR shopping.
Innovative strategies need to consider the changes in the global media environment, Dr Ko said, among them, the increasing number of mergers and acquisitions between media companies, significant capital mobilisation of global companies such as YouTube and Netflix to enter overseas markets, advertising decline in traditional media, and personalisation of content consumption.
In closing, Dr Ko gave this piece of advice to participants; 'embracing growth through innovative technology that pursues innovation and growth but maintains a human-centred stance is the new national strategy in the digital revolution age'.