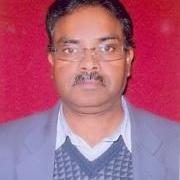 Mr. Rajender Kumar is presently working as Director(Engg.) at O/o Director General, Doordarshan. He is presently looking after Spectrum Management and International Relation (SM&IR) section.
He started his career in the year 1989 as Scientist "B" at Society of Applied Microwave Electronics Engineering Research (SAMEER) under Department of Electronics and IT and worked on MST Radar and Integrated Optoelectronic Circuit. He designed and fabricated 2X2 optical switch.
He joined All India Radio and Doordarshan through Indian Engineering Service examination in the year of 1993. He worked on installation of Interim TV studio at Parliament House, Low Power and Very Low power TV Transmitters in remote areas. He served DDK Bhopal and DDK Leh as Station Engineer. He has got 14 years of working experience at National Academy of Broadcasting and Multimedia (Formerly as STI(T)) as faculty. His fields of specialization are Video Compression, Error Correction Coding, DVB-T/T2 and DVB-S/S2 technologies.
His qualifications are BSc (Physics), MSc(Electronics) from Delhi University and M. Tech (EMT) from IIT Kanpur. He has got many technical articles published in National and International journals.