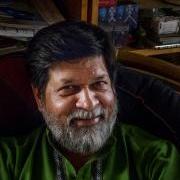 Recipient of one of the highest national awards given to Bangladeshi artists, photographer, writer, curator, educator and activist Shahidul Alam, founded the Drik and Majority World agencies, the Pathshala school, and the Chobi Mela festival. He also built the first email network in Bangladesh.
Obtaining a PhD in chemistry before switching to photography, Dr. Alam focuses on issues of social justice. A former president of Bangladesh Photographic Society, Dr. Alam's work has been shown in MOMA, Centre Georges Pompidou and Tate Modern. A speaker at Harvard, Stanford, UCLA, Oxford and Cambridge universities, Dr. Alam is an Honorary Fellow of Royal Photographic Society and has chaired the international jury of World Press Photo.
John Morris, former picture editor of Life Magazine considered Dr. Alam's book 'My journey as a witness' "the most important book ever written by a photographer". A visiting professor at Sunderland University and Adjunct professor at RMIT, Dr. Alam is on the advisory board of the National Geographic Society.