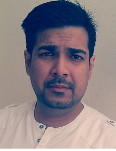 Nabeel Tirmazi has diverse experience in the field of TV production, since 2002 he has been actively producing programs on behavioural sciences, mysticism, sport related and dramas. Apart from being producer, he has worked in capacity of actor, anchor and did five-year long program as a graphologist.
Before joining AIBD he was linked with Pakistan Television Corporation as a producer in International Relations Division. Numerous of his projects were screened internationally on different platforms and got nominations.
Nabeel Tirmazi has also been giving lectures on various broadcasting subjects including transmedia, storytelling, narrative techniques, social media marketing, online reputation management and personal branding etc. He has also co-authored a book on 'post production' for UNIDO Pakistan.